Meta Box
Quickly create expert meta boxes and custom fields for your WordPress site
Custom fields are like microwave mac and cheese meals: if you're spending more than 10 minutes making them, you're doing it wrong. (Shouldn't have tossed out the instructions.)
Even once you've got a rhythm down, redoing the same fields over and over again is part of your life you wish you could get back.
Ready for an easy-to-use solution that lets you make custom fields and meta boxes in a jiffy?
Open up Meta Box.
TL;DR
Quickly create over 40 types of custom fields with a drag-and-drop interface
Alternative to: Advanced Custom Fields (ACF)
Integrate with any WordPress theme, plugin, or website
Best for: WordPress site creators and developers looking to easily incorporate custom fields and meta boxes into their site
Meta Box is a WordPress plugin that lets you create 40+ types of custom fields and meta boxes in record time.
It's time to build what you need into your site without worrying about tedious lines of code. (Or breaking everything… whoops.)
Meta Box lets you craft custom fields, post types, settings pages, front-end forms, and even Gutenberg blocks with ease.
Meta Box supports an impressive number of field types like text, image, Google Maps, custom HTML, and more, with a drag-and-drop interface for intuitive customization.
You'll also be able to visually configure the fields to get them looking exactly how you like.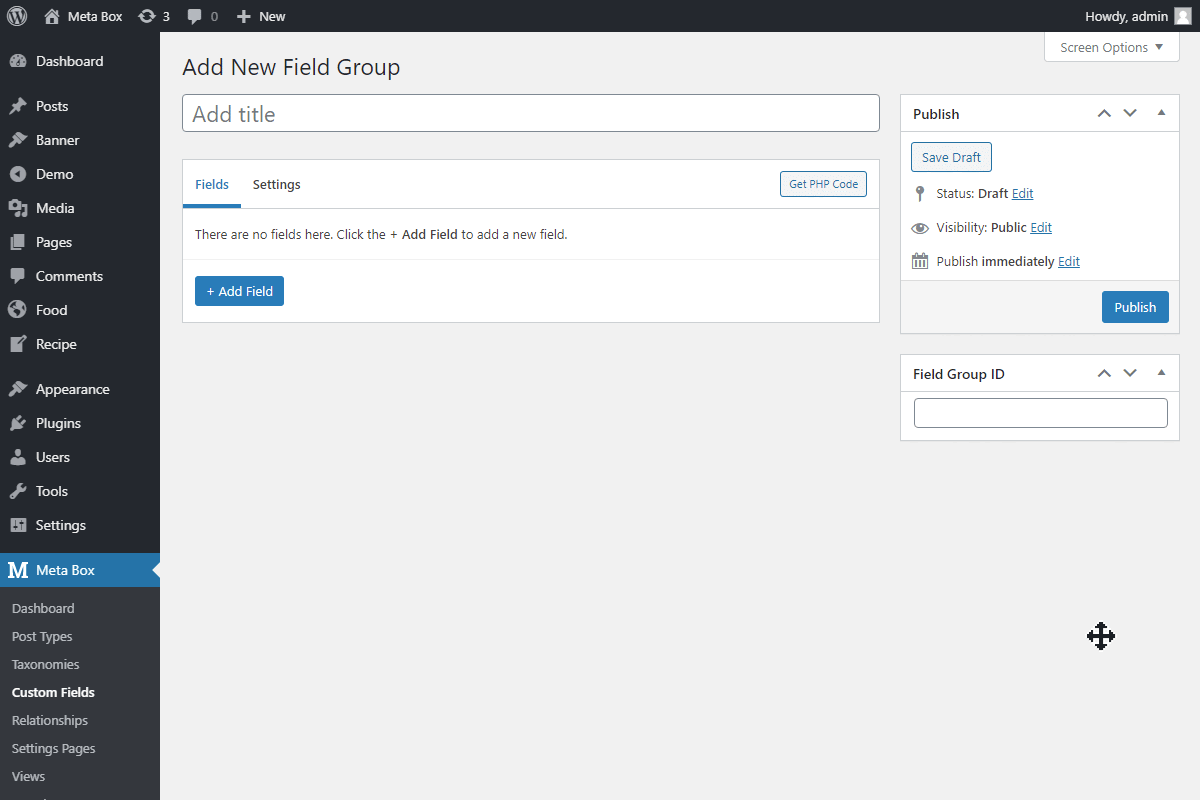 Use the drag-and-drop UI to quickly create custom fields, settings pages, forms, and more!
You won't need to deal with confusing clusters of fields, either.
Meta Box lets you put fields in repeatable and collapsible groups, plus add conditional logic to show or hide fields when a value is changed. ("Is Top Gun overrated, and why not?")
Use columns or tabs to condense your information into a more attractive package—adding help information is super easy with tooltips, which users can see when they hover over a field.
All data is intuitively organized and stored to keep your user database lean and effective.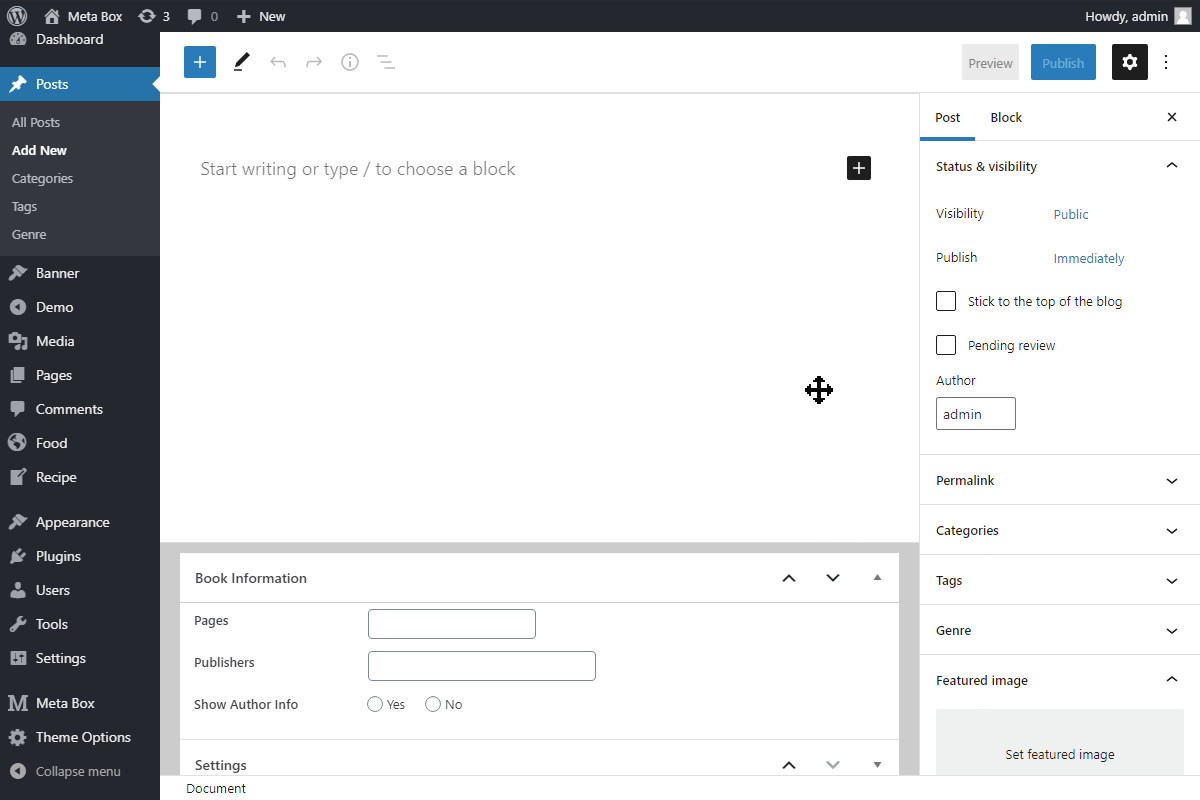 Group fields and add conditional logic to make sure everything is condensed and efficient.
You'll have a field day with this: Meta Box gives you the flexibility to make forms on the frontend, too.
You can craft contact forms, post submissions, or profile editing forms with only a quick shortcode insert wherever you'd like it displayed.
Plus, you can show the custom fields' values on the frontend of your site without touching any of the theme's files, too.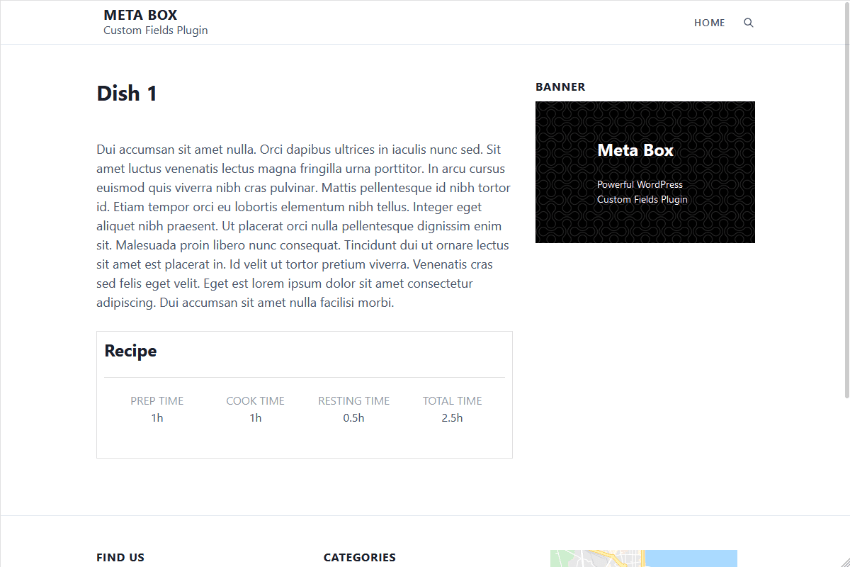 Meta Box lets you display field values on the frontend without touching theme files.
Meta Box will fit perfectly into your ecosystem like that trusty air fryer for your kitchen. (Gotta have my tots.)
It integrates with any plugin, theme, or WordPress site and offers free extensions to easily connect with the most popular page builders and plugins.
You can also create a settings page for any theme or plugin, so you can add the page to the customizer, admin dashboard, or both.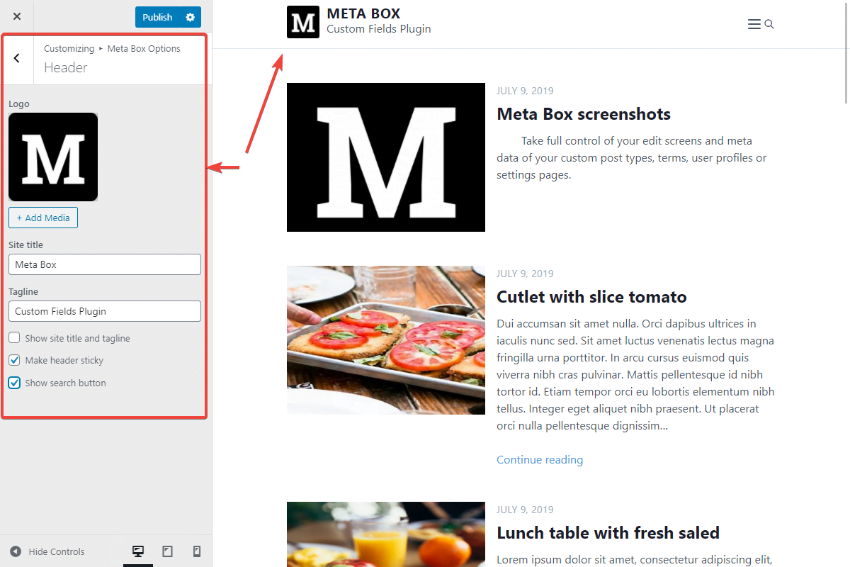 Create settings pages for any plugin or theme, then add them to the customizer, admin dashboard, or both!
Take what you need and leave the rest for later with Meta Box's bonus extensions.
The core plugin will cover your basic needs, and you can enable other features in the extensions with a single click.
For the more technically minded, Meta Box also offers comprehensive documentation for developers to customize or extend the plugin how they want.
It's all right there for you in one easy-to-use package.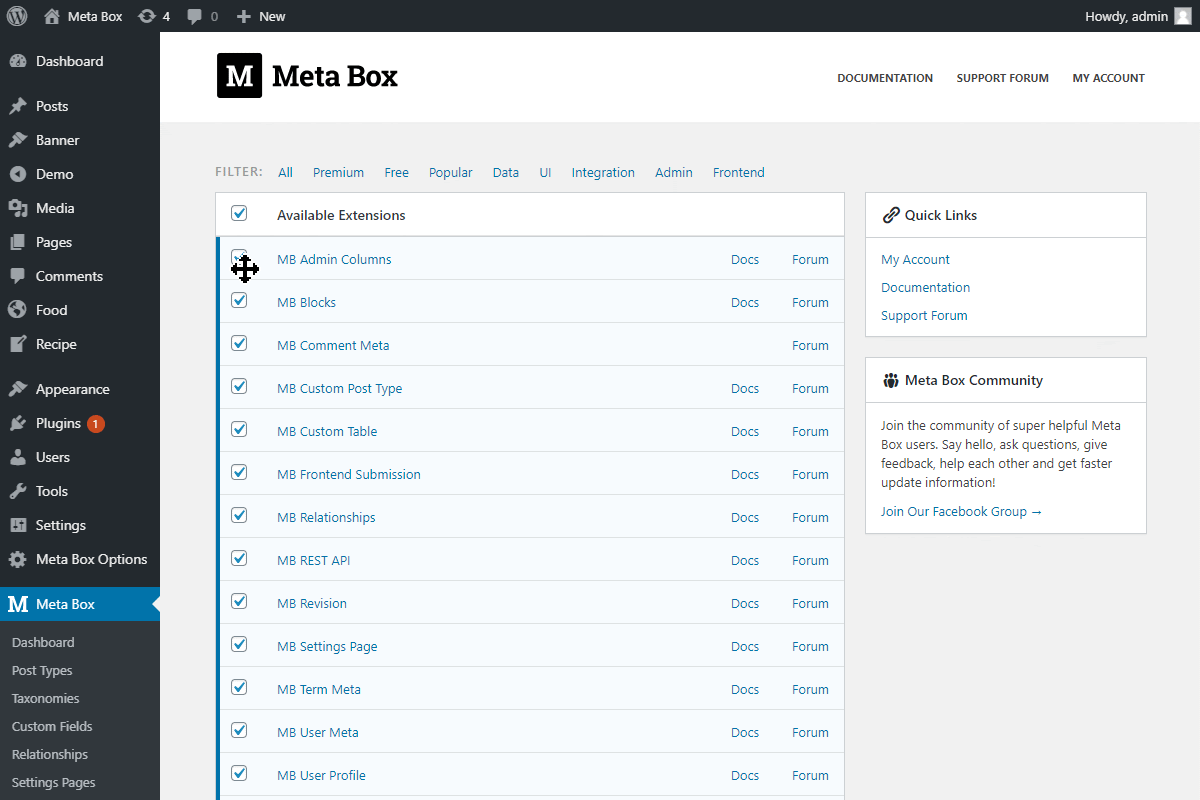 Add any plugin extensions that you need with just one click!
Certain things in life are always going to take time, which is why most people would rather chew on nails than wait in line at the DMV. ("I have low iron, anyway.")
Meta Box accelerates the way you make custom fields, with over 40 field types, collapsible groups, and a drag-and-drop interface to save you time for what's actually important.
There's no time like the present to give yourself a little gift.
Get lifetime access to Meta Box today!
P.S. Learn how to use Meta Box like a pro by catching our training webinar replay here: Webinar Replay!
---
Plans and Features
Deal Terms 
Lifetime access to Meta Box Core (T1), Developer (T2), Lifetime Bundle (T3) Plans
No codes, no stacking—just choose the plan that's right for you
You must activate your license within 60 days of purchase
All future Core, Developer, and Lifetime Bundle Plan updates
Ability to upgrade/downgrade between 3 license tiers
GDPR compliant
60-day money-back guarantee, no matter the reason
Features Included in All Plans 
Group
Include/exclude
Builder
Conditional logic
Term Meta
Tabs
Columns
Settings page
Admin columns
Template
Tooltip
Show/hide (JS)