Ora 3
Next-gen instant messaging and task management rolled into one centralized hub
It's time to finally get your projects in order, you say as you open up another management tool while checking your chat app during a video call. ("I could take this balancing act to Vegas.")
Somehow all the tools meant to make your life simpler are only making things more complicated.
Looking for a complete platform for daily to-dos, time tracking, chatting, and project management?
Ora 3 is on deck.
TL;DR
Get task management, team chat, time tracking, Scrum, and Kanban boards in one robust tool

Alternative to: Asana
Communicate with instant messages, audio, screen sharing, and video calls for up to 15 people
Best for: Project managers and team leads that want all their collaboration and management tools in one place
Ora 3 is an all-in-one platform featuring project management, team chat, time tracking, and reporting.
Ditch your work chat app and get it bundled with all your project management straight out of the box.
Ora 3 lets you create channels for any topic, collaborate with partners, and add your clients to a channel for easy communication.
You can also use voice and video chat up to 15 people, with the option to share your screen for streamlined conversations.
Start a discussion thread inside any channel, plus send files and links without leaving Ora 3.
Make video calls with up to 15 people with the option to share your screen!
Skip the endless copy-and-pasting with task comments automatically transferred to your channel discussions.
All of your task comments are made into a discussion thread inside a chat channel named after that project.
That means that you can easily iterate on ideas without cramping up your task card. You'll save scroll time because the info is kept inside the task card.
Even better, team members can leave specific feedback on images, videos, PDFs, so you'll know exactly what they're talking about (and avoid another meeting on your calendar).
Task comments are automatically made into threads in your chat for easy reference.
Much like your favorite (see: only) hairstylist, Ora 3 makes sure your projects are in excellent hands.
You'll be able to see tasks from different projects assigned to you or your team.
Plus, the inbox gives you a look at all the unscheduled tasks from different projects to get a better idea of your pipeline.
Filter tasks by team members, projects, and task states for easy viewing, and schedule work by simply right-clicking on any card.
You can easily manage projects with quick scheduling and simple filters.
Make sure time is on your side with Ora 3's time tracking.
Use task timers to keep people focused and gamify work, with the option to track the time spent for the whole team.
You'll be able to see where people focused the most attention, including specific information for projects and task types. (You may even reduce collective time spent on the r/aww subreddit.)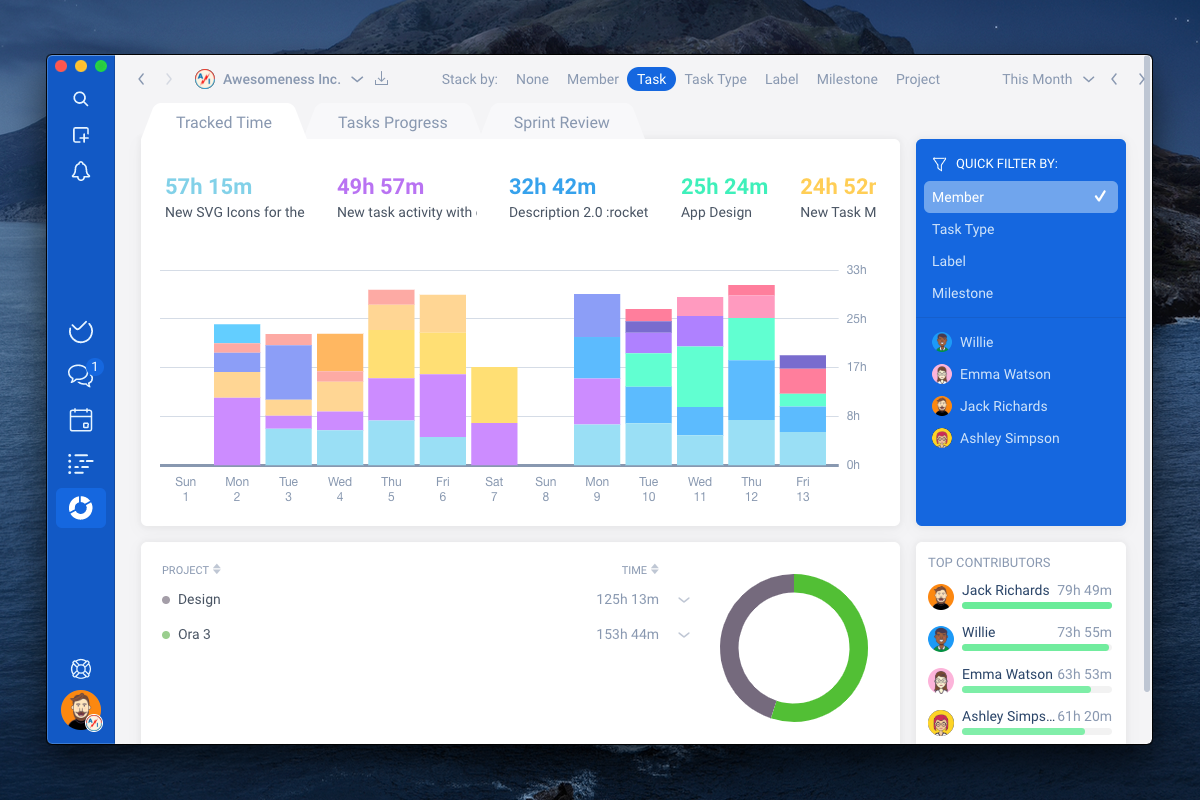 Use the time tracking features to set task timers and analyze what tasks and projects are getting the most attention!
Ora 3 will fit into your ecosystem without a hitch, too.
It's got a public API and it integrates with Zapier, allowing you to connect to over 1,500 services.
The platform also features deep integrations with GitHub, Bitbucket, and GitLab, so you can reference or close tasks with Git commit messages.
No need to give up your precious Google Calendar either, since due dates and schedules can be connected in a jiffy.
Plus, the dark mode theme means you can give your eyes a break without interrupting your work groove. (♫ Ain't nothin' gonna break my stride…♫)
Ora 3 integrates with Zapier, GitHub, Bitbucket, and more, letting you close/reference tasks with Git commit messages.
Digging through all your single-use work tools is more frustrating than trying to match your socks on laundry day. ("The gnomes that steal my socks have moved onto important work files.")
Make things easier for yourself and your team.
Ora 3 combines project management, time tracking, video chats, team communication, and much more into one comprehensive platform.
Get lifetime access to Ora 3 today!
P.S. Learn how to use Ora 3 like a pro by catching our training webinar replay here: Webinar Replay!
---
Plans and Features
Deal Terms 
Lifetime access to Ora Enterprise Plan
You must redeem your code(s) within 60 days of purchase
All future Enterprise Plan updates
Stack up to 10 codes
GDPR compliant
Previous AppSumo customers who purchased Ora can buy more codes to increase their feature limits
60-day money-back guarantee, no matter the reason
Features Included in All Plans 
Two-factor authentication
File encryption
Single sign-on
Unlimited projects and tasks
Unlimited observers
Team chat
Video calls