plug&paid is a full-feature online shopping cart solution that makes e-commerce simple and direct.
plug&paid makes transforming your website into a business as easy as copy&paste — one snippet of HTML turns clicks into sales.
To start, just create a plug (that's your shopping cart) and in no time, you're ready to get selling.
From there, you can add products descriptions, dimensions, prices, photos, tracking numbers, and more.
plug&paid even makes the distinction between physical products, digital products (AppSumo's jam!), and services.
For digital downloads, plug&paid has your back with automated delivery and support for licenses.
Logistics is everything when it comes to gettin' physical with your products. That's why plug&paid has an automated shipping cost calculator that tells you how much it will cost to ship your product to its destination using UPS, USPS, DHL, and FedEx.
plug&paid's smart stock management ensures that orders are actually in line with your inventory so you don't have any transactions you can't fulfill and no disappointed customers (No #FyreFestival here!)
You'll even be able to create subscriptions on a weekly, monthly, or yearly basis and keep your customers coming back for more.
Paper or plastic? plug&paid shows you the money through all sorts of payment methods, whether it's cash on delivery, credit card, Stripe, Alipay, Bitpay, or Paypal.
You can fine-tune your cart even further with custom "Thank You" messages, whitelists that let you specify which country to sell in, 20 different languages, and 29 different currency options (including ~*cool cryptocurrencies*~ like Bitcoin and Bitcoin Cash).
Finally, pick your plug type (button, custom link, or widget) and customize that moneymaker to fit your style and brand!
And once everything is up and running, you'll have live metrics of sales and revenue data that tells you exactly how you're performing.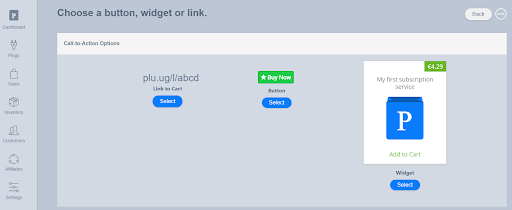 For online businesses, the fuzz can totally kill a seller's buzz.
It's about time to finally open the doors to your online store, so we're bringing you the plug&paid Supercharged Plan that gives you:
Unlimited Shopping Carts
Unlimited Product Listings
Automated Invoices & Customer Emails
Digital Product Distribution
Unlimited Bandwidth/10GB Storage
Zero Transaction/Processing Fees
Multi Payment Cart
20 Languages / 29 Currencies
Agencies, if you want to offer this Supercharged Plan to your clients, you're in luck because you can stack this deal as many times as you want! And you'll definitely want to, because all kinds of incredible things happen when you stack this deal:
Stack three codes and unlock an extra account (4 Supercharged accounts total)
Stack five codes and you'll be upgraded to the plugnpaid Agency Plan, with 10 client accounts and custom branding
Stack ten codes and you'll be upgraded to the Agency Star Plan, with 100 client accounts and a bonus Twilio add-on
For a complete list of plan features, check out the plugnpaid Pricing Page.
So let's get down to business and defeat the hundreds in monthly plugin and service fees other storefront solutions charge.
Grab lifetime access before the clock hits zero!
Turn clicks into profits today!
Other complicated storefront solutions or marketplaces take a commission on each sale, charge hidden fees, or redirect to their own platform (Mr. Steal Your Sale, much?).
plug&paid is a simple peer-2-peer solution that never gets in the way of you and the customer, leaving you lovebirds and your hard earned money alone.
plug&paid also has encrypted SSL shopping so your customers can have peace of mind and GDPR compliant software so you can have peace from fines.
You can even leave European Union VAT rules in the hands of plug&paid with automatic calculations, digital product rules, compliant invoices, and VAT validation.
It's time we face the facts: brick and mortar stores are dwindling (experts attribute this to modern society's refusal to put on pants and leave the comfort of their couch).
You've already got the platform to open your own online business with no pants required.
All you have to do now is turn your audience into customers by adding a plug&paid shopping cart to your website.
Don't let the timer beat you!
Get lifetime access to plug&paid now!
P.S. Join us for a plug&paid demo and walkthrough. Click here to watch the replay.